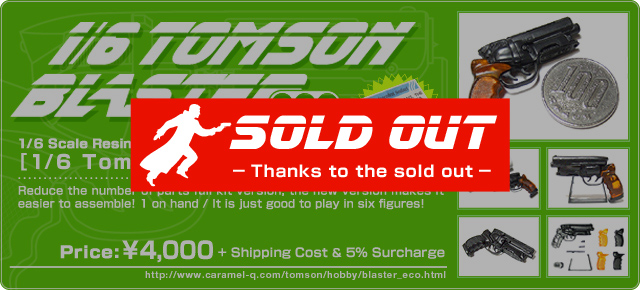 Introduction ...
For customers outside Japan; contact via e-mail in English will be welcome.However, as I'm not good at English, I'm using machine translator on Internet to write/read.I appreciate it if you can write me simple and easy way :) Thanks!
If you wish to purchase Tomson Blaster eco, Please read below and send me necessary information via e-mail. I can only accept the payment by Japanese Yen (JPY) through [ PayPal ], and the shipping method is by [ EMS ]. Your payment will be [ product price + shipping cost + 5% surcharge ]. Cancellation after the shipment will not be accepted. –Product package and manual language is Japanese.

Bonus parts: black grip parts for "Standard police blaster" and 1/6 scale newspaper included!
You can get free black grip parts to reproduce blasters which the ordinary police officers carry (AKA Stunt prop version blaster). Free 1/6 scale newspaper included!

For Larger images, please visit the following page.
'1/6 Tomson blaster eco [ Garage Kit ]
'1/6 Tomson blaster eco [ Mobile strap ]
'1/6 Tomson blaster eco [ Stunt version. ]
'1/6 Tomson blaster eco [ Pre-assembled model ]
'1/6 SPINNER GIRL Blaster [ Garage Kit ]
1. If you wish to purchase, please send email with the following requirements.
Copy and paste the followings, and fill in your information, then send me via e-mail.

Subject: "1/6Tomson Blaster eco mail order" (Please make sure to remain this)
------------------------------------------------------------------------
-Your full name
-zip code
-address
-phone number
-e-mail address
-quantity to purchase ( kit = ? )
@ (Pre-assembled model = sold out ) ( Mobile strap = sold out ) ( Stunt Prop ver. = sold out )
@ (SPINNER GIRL Blaster = sold out )
-any comment?
------------------------------------------------------------------------

2. Upon receipt of your e-mail, I will reply the details about payment.
As soon as I receive your e-mail with your information, I will calculate the total cost you have to pay. PayPal will then send an e-mail to request for payment. Please check if there is no problem with your payment. If it is no problem, please make payment within three days from the arrival of the request. The item will be shipped after the confirmation of your payment!


*If there is no reply from me in 48 hours after you sent me an e-mail, it is possible to be e-mail sending failure. In that case, please post your message to my BBS. I will consider how to handle the problem.
Thank you for confirming the details! Finally ...
That's it for purchasing Tomson Blaster eco. Thank you again for taking your time to read this! Selling this is not a business but a kind of "extension" of my hobby. so if I have any troubles with this, I may quit this. Anyway I'm looking forward to hear from you!

Click here for the e-mail address for "1/6Tomson Blaster [eco] mail order" mail-order.